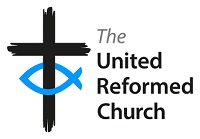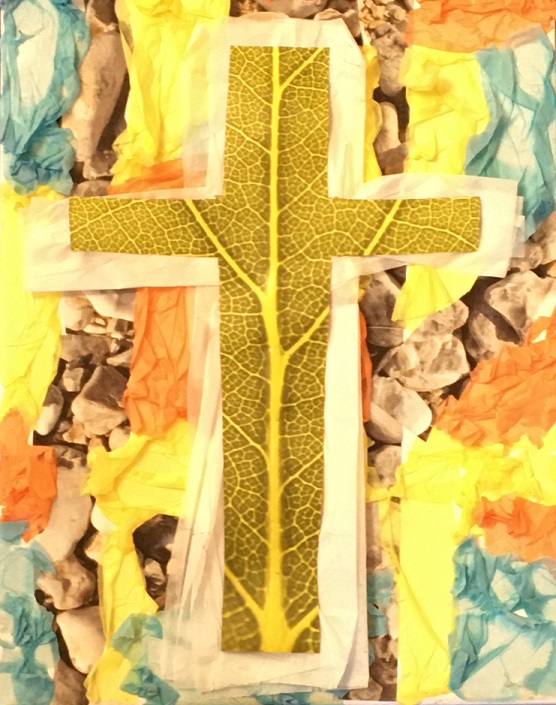 Online articles to help us through these troubled times
On this page:

• Message from our new minister

• Comforting Stranger

• Support for Black Lives Matter (BLM)

• Worship during the "Lockdown"
A Message from our new minister (The Revd Sue Fender)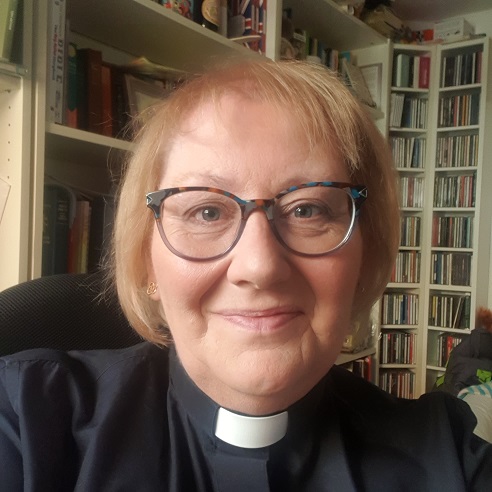 This is me…….
Hello – I'm Sue Fender, the new Minister of The Linked Pastorate, a group of five United Reformed Church churches in Bassingbourn, Buntingford, Fowlmere, Great Chishill and Melbourn.
I am married to Alex, who is a piano tuner/technician, and we have two adult children living in West Yorkshire and Newcastle upon Tyne.
At 18 I attended the London College of Furniture and trained as a Piano Tuner Technician. Music is a huge part of my life. I am able to play the piano and clarinet but confess I enjoy listening to music far more than performing it. Attending live music concerts is high on the list of things I have missed most during the pandemic and lockdowns. From musical theatre to a rock concert, chamber music to a full sized orchestra, I embrace it all.
For those of you familiar with film, you might recognise that the words at the top of this as being from The Greatest Showman. I love a good drama, at the cinema or on television and enjoy the engagement of popular culture and theology. I was really enjoying watching Shakespeare, live from the Globe beamed to our local cinema before the lockdown!
My hobbies include swimming and working with stained glass.
Faith matters…
I grew up within the United Reformed Church, having been baptised as an infant in the Congregational Church.
In 2005, after many years working as an office manager in a primary school I felt God calling me to something new. I began studying for a degree in Religious Studies with a view to becoming and RE Teacher, but in 2007 received a call to Ministry and trained at Westminster College in Cambridge. I have served as Minister in South Wales and in the NE of England and am delighted to have been called to minister to the Linked Pastorate.
I believe that church communities should be always open and inclusive to all, regardless of gender, culture or sexuality. We are open each Sunday for worship at 11.00 am and we hope it will not be too long before we can return to a programme of community events.
I look forward to welcoming you into our church and getting to know you. If you see me out and about, please do stop me and say hello!
Every blessing
Sue
Comforting Stranger (by Penny Flynn)
'Jesus, stand among us in your risen power;
let this time of worship be a hallowed hour.


Breathe the Holy Spirit into every heart;
bid the fears and sorrows from each soul depart.'


words: W. Pennefather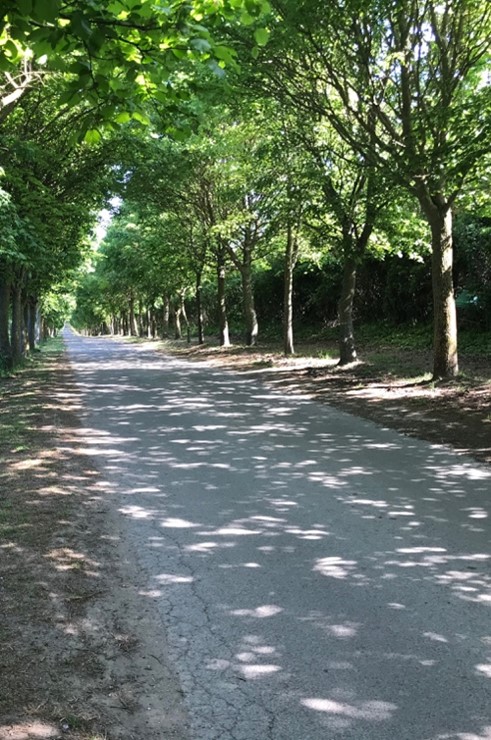 One of my favourite bible passages tells the story of the two men who walked from Jerusalem to Emmaus on the first Easter day. The stranger who walked alongside them, explaining to them what they had witnessed and experienced in Jerusalem in recent days, and joining them as the day closed at their supper table, opened their eyes to who he actually was. Jesus' living presence on the road had stirred something inside them, but they hadn't recognised him until he blessed and broke the bread – by which time he had vanished.
You can hear Graham Kendrick's telling of this story in his early ballad 'Comforting Stranger' here: https://www.youtube.com/watch?v=GYGARA4f1ZU The lyrics are here: https://www.grahamkendrick.co.uk/songs/graham-kendrick-songs/paid-on-the-nail/comforting-stranger-i-took-me-my-walking-shoes
The two returned immediately to Jerusalem, found the disciples and told them all about their incredible journey.
This story is not part of the gospel reading for this Sunday, which follows immediately after: Luke chapter 24, verses 36b-48 starts with Jesus standing among 'them' – hence the verses of the hymn with which I began. 'Them' is the disciples and their companions. Jesus reassured them all by offering his peace, a traditional greeting, but loaded with much more as it came from Jesus; and by showing them that he was real – they could see and touch him, he could eat proper food. This was resurrection, and it was hard to understand. Jesus explained that all this was what he had been teaching them and talking about whilst waking and working with them for three years; but this time he opened their minds to understand the scriptures which he had been fulfilling; to make the connections they hadn't managed to make previously; just as he opened the minds of the two walking the Emmaus Road. This was a very personal bible study, showing how the scriptures that spoke of the coming Messiah had come true in himself, especially those that spoke of the Messiah needing to suffer, and to rise from the dead on the third day.
To this teaching and mind-opening, Jesus joined repentance and forgiveness of sins, a major aspect of his own work, which his disciples were to continue, beginning where they were with the message eventually reaching all nations. They were witnesses – and could speak form first-hand experience. Thank God they did – and many others with them and after them – the witnessing and speaking hasn't stopped yet and must continue. And it does all around the world. Friends live and work for the Lord in an eastern European country. She takes any opportunity to carefully introduce people she encounters to Jesus, slipping them a gospel or a tract, and following up with them when the opportunity arises. All God's work. The Bible Society has many stories of their people at work in the world, and inspiring accounts of individuals who share a verse that has helped them.
May we all know the peace of the Lord, the presence of the Lord and the power of the Lord in our lives as we walk and through the coming days.
'Thus with quickened footsteps we'll pursue our way,
watching for the dawning of eternal day.'


words: W. Pennefather
Penny Flynn
Support for Black Lives Matter (BLM)
Many of us have been deeply troubled by the events in the US that have led to the global "Black Lives Matter" movement. It is sad that in the 21st century we are still plagued by the ongoing menace of racism. This is not just a remote issue affecting faraway places. Within our own society most people of an ethnic minority background will experience prejudice and disadvantage, purely because of the way they look. As Christians we find this abhorrent and altogether unacceptable.
URC Youth made the following statement: "We hope to affirm our commitment to being anti-racist and will take this opportunity to consciously examine our own practices to see where we can do better." See https://urc.org.uk/latest-news/3511-black-lives-matter-urc-youth-stands-in-solidarity for the full article and links to resources.
At Melbourn URC we echo this statement, advocating for acceptance of all peoples and reject all forms of action that differentiate based on racial backgrounds. We will work to examine what we can do better and ensure that inclusion is enshrined in our culture within the church. Watch-out for more to come on this topic.
What does the bible say about racism?
Galatians 3:28 NIV
There is neither Jew nor Gentile, neither slave nor free, nor is there male and female, for you are all one in Christ Jesus.
John 7:24 NIV
Stop judging by mere appearances, but instead judge correctly."
Matthew 28:19 NIV
Therefore go and make disciples of all nations, baptizing them in the name of the Father and of the Son and of the Holy Spirit
Worship during the "Lockdown" (by Rev Rosemary Hartley)
We are all used to some worship at home. We may follow something like the IBRA readings and notes, making a quiet time for prayer, maybe first thing in the morning. We may just offer a flash prayer for help for ourselves, or for another during the day. We may say thank you for the way things have worked out. We may commit ourselves to God's care as we come to the end of another day. We may do all these things.

But we are all used to worship together on Sundays. We enjoy a variety of approaches in an interregnum, with different people coming each Sunday to lead the Service and using our basic framework in their own individual way. It includes prayers of adoration, confession, thanksgiving, dedication and intercession. There are readings from the Bible and the gospel is proclaimed.

So what I do on Sundays at the moment is this:

I settle down in front of the computer about five minutes before 11 am. At this time I know that friends in Melbourn and in St. Neots are settling down in their own homes to share worship together at our usual time for Sunday worship. I bring them to mind before God.

I go to the website of the URC in St. Neots where I was a Member from 2006 until I moved to Harston last year. I listen to their Minister Rick with his prayers and thoughts on the Bible passages set for the day.

Then I turn to one of the suggestions on the website of our Melbourn URC. On Easter Sunday I sang the traditional hymns supported by the choir of Kings College.

On the first Sunday after Easter the lectionary readings included John's account of the appearance of the Risen Christ to the disciples. In the URC Prayer Handbook, which I follow every year, the Opening Prayer started:

"Risen Christ,
when we find ourselves behind closed doors .......
come and stand amongst us."

It continued with topics of intercession with the same request

"Where there is fear and anxiety ......
Where there is loss and grief ......
Where there is doubt and insecurity ......"

But it was that Opening Prayer I particularly wanted to share. It had been written months before the Coronavirus crisis and Lockdown. Yet so amazingly appropriate!

So we can worship day by day in the way we always do. On Sundays we can take advantage of whatever the media have to offer on whatever equipment we have.

The one thing we can't do is meet around the Communion Table to share in the Sacrament of the Lord's Supper, and express our fellowship in conversation together.

We look forward to the time when the virus is defeated, and we can meet again.

Rosemary Hartley





Find us at: Orchard Road, Melbourn, Cambridgeshire SG8 6BP
https://www.google.co.uk/maps/place/Melbourn+URC+Church


---
Copyright © 2016-2021 Melbourn United Reformed Church